The bolt people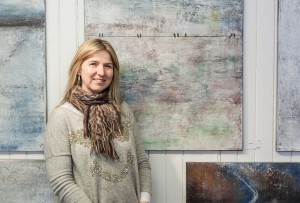 have existed as a species for some time, but it is only now that the Norwegian people are discovering them. I created the silent yet meaning-rich sculptures using old bolts I discovered on a farm. Following a hugely successful exhibition in Borlange, Sweden, at the beginning of this year, the Bolt people came to Oslo for an exhibition my gallery in Bærums Verk. The exhibition featured a special guest, Norwegian painter Solveig Skogseide.
When I found the bolts, I felt they had something to say. I was later quoted as saying, "The bolts reminded me of human forms. I heated them, forged, bent and twisted them. I tried to create relations, meetings and situations and suddenly stories emerged about sorrow, joy, pain, warmth and humour." A kind of poetry was created. Hence the name of the series: Bolt Poetry. Yet, people naturally began to use the term bolt people as the emotions of the figures were so human-like.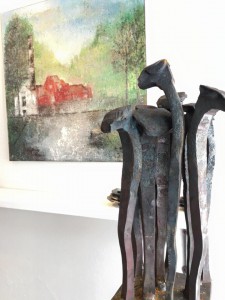 It is not surprising that the Bolt Poetry series was created in response to a highly emotional moment in Norways history: the attack on Utøya island on 22 July 2011. The first piece, with the name Absent, represented my meetings with those who had lost family and friends on that day. Meeting with people in grief had left me with this palpable sense of loss. Absent will form part of an exhibition taking place this summer commemorating the terrible events of five years ago, along with over 800 roses forged in metal as part of the Iron Rose for Norway project.
Capturing human emotions is also a driving force for Skogseide. Like me, she is inspired by relationships. Her paintings show scenes of the ordinary through her unique lens. The hazy blend of colours invites us to look closer and see what we think we know in a new way. My art extends the same invitation to the viewer, though my sculptures ask you to look past the hard, cold, iron surface, and see the beauty through another eye. Apart from Absent, the Bolt Poetry sculptures have no title. It is left to the viewer to create their own story.
The contrast between the paintings and the sculptures in the Bærums Verk gallery is striking. Skogseides slightly surreal, colourful landscapes provide the perfect backdrop for the raw iron sculptures. You can see the bolt people sitting in a world that seems their own. It is a special and mysterious place, but a place that exists inside each and every one of us. This place can sometimes seem very far away as we go about our daily lives. This exhibition, titled "Moments and Eternities", shows us that we can all get to that place if we just look a little closer. One moments glimpse can last a lifetime.