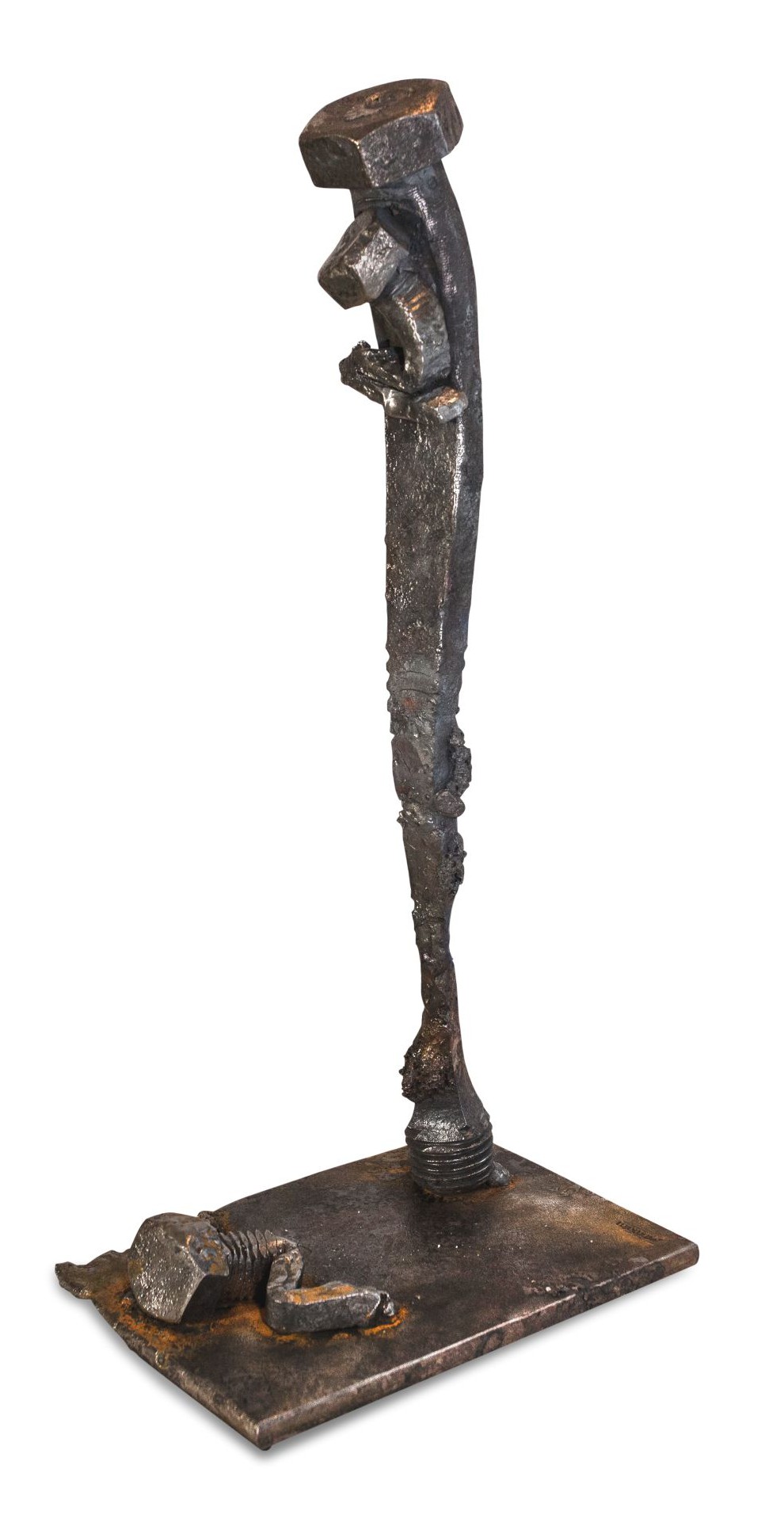 I am really proud to be showing my work at Borlänge Konsthall, in my homeland of Sweden. The exhibition of metal sculptures opens on 12 January, and runs for three weeks, until 3 February. It is titled Moments and Eternities (Ögonblick och evigheter). This exhibition further develops my idea of creation theory (skapelseteorin) and will feature new pieces in the Bolt Poetry series. I want to highlight, among other things, human vulnerability and the search for a collective community after we, us, and I.
My work revolves around death: death as a prerequisite for life, and the life pursuit of death. Dissolution and birth occur in a space without time. The beginning and end seem far apart, but in reality it is happening in every moment. The idiom is brutal and simple. My youth in a Swedish mining town shaped the man I am today. As I continue to grow older, and watch the town die as heavy industry leaves the area, the idea of death as creation evolves.
These thoughts began to take solid form some years ago, at a time when death played a prominent role in my life. In a series of conversations with my good friend Randi Smedsgaard, who was going through a similar dark time, we discussed the topic of death. Eventually, the conversation came to be about life. It was a natural thing. Like all destruction, our words went from tangible feeling, to ruin, to new creations. I see already my childhood town becoming something new and fresh, though different from what it was. It is the child in us that leads the way, wishing us peace and truth. My sculptures have no title, I want to leave it to the viewer to tell their story.
My band, Tubalcain og Lilith, will be performing at the grand opening. Many of you might not know that sound is intrinsic to my art. Rhythm and sound is all around when I am working at the smithy. Together with some artist friends, I create musical instruments from scrap and metal. When we play, we try to capture the feeling of the blacksmiths workshop. The sounds are raw and basic. Our instruments are simple, but personal. We invite the audience to find their own meaning in the music.
If you cannot come see my species in person, I will be posting photos and updates on my Facebook page. I will also hold an online exhibition at the same time using Behance artist platform. This is the first time I have done this! See the special event page here. Welcome!
Moments and Eternities / Ögonblick och evigheter
Exhibition dates: January 12 – February 3 2016
Borlänge Konsthall, Huvudbiblioteket, Sveatorget 5, Borlänge SE
Måndag – torsdag 10:00 – 19:00
Fredag 09:00 – 18:00
Lördag 11:00 – 15:00
Grand opening: 12 January at 4pm, with performance by Tubalcain og Lilith at 6pm.